There are two things you can do to work safely in the kitchen, with the stove and oven, if you have memory problems. First, use a portable timer when cooking. If you must leave the kitchen while cooking, take a portable timer with you. The ding will remind you that you have something on the stove or in the oven. Second, use a timer or an alarm clock that you have to turn off, as opposed to one that rings only once, to remind yourself to turn on the oven to start dinner.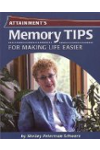 More About this Book
Memory Tips Making Life Easier
Written by memory and aging expert Shelley Peterman Schwarz, Memory Tips for Making Life Easier delivers just what its title promises. Written for health care professionals, family caregivers, and...
Continue Learning about Memory