Tie a bright ribbon on your car radio antenna to help locate your car quickly in large grocery or mall parking lots. Another way to help locate your car in a parking lot is to put a colorful hat or stuffed animal on the back shelf of your car. You'll be able to distinguish your car from the others more easily.

Keep notepaper and a pen in your pocket to jot down where you parked your car. For example, write down the number of parking spaces to the main aisle. If you park in an unpaved area with few landmarks, find a tree, sign or other distinctive marker and add that to your parking notes.

Activate your car's panic button to help you locate your car in a large parking lot. A parking timer minds the meter, keeps the deadline and remembers where you parked! The device can also be used to remember appointments.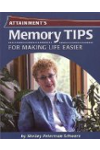 More About this Book
Memory Tips Making Life Easier
Written by memory and aging expert Shelley Peterman Schwarz, Memory Tips for Making Life Easier delivers just what its title promises. Written for health care professionals, family caregivers, and...
Continue Learning about Memory