Some general memory techniques include:
Do it now. This is probably the most important memory enhancement technique. If you act immediately, you have no need to remember.
Write it down. Write notes, make lists, create "cheat sheets" and construct timelines.
Visualize. Form a picture in your mind. Use your imagination to add humor, action or exaggeration.
Create rhymes and tunes. Use rhyming words or create new words for familiar tunes to help you remember tasks, sequences, dates and facts.
Make up stories. Link items together in your mind by putting them in story form. (Remember how story problems helped you learn math?)
Develop acronyms. Using the first letter of each item you want to remember, create an acronym or funny phrase such as KISS (Keep It Simple Stupid).
Make associations. Relate new information to something you already know.
Group like items together. Organize your mind like a grocery or department store, with similar items or categories all in the same aisle.
Divide and conquer. When learning something new, break up the subject into manageable sections and concentrate on one section at a time.
Retrace your steps mentally to retrieve a thought, remember where you left your coffee cup, remind yourself what you were looking for or recall what you wanted to do next.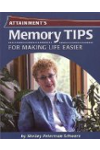 More About this Book
Memory Tips Making Life Easier
Written by memory and aging expert Shelley Peterman Schwarz, Memory Tips for Making Life Easier delivers just what its title promises. Written for health care professionals, family caregivers, and...
Continue Learning about Memory