Create a list of questions you want to ask your doctor prior to your visit. You can write those questions down and have them available when you speak with your doctor. New technology is increasing ways to help you recall your questions in preparation for your medical appointment. For example, the I-phone will allow you to write your questions conveniently on a "notes," pad application. Also, the newer version of these phones, allows you to just speak your questions into a built-in microphone in the phone so that your questions are either recorded, or typed out for you on the phone's "notepad." It's kind of like having a personal secretary in the palm of your hand, so your questions are at your fingertips. Some physician offices and hospitals have something called "mychart," or a similar computer software. This software allows you to create an account allowing you to access your medical records for visit history, test results, scheduling medical appointments or e-mailing questions to your doctor from any computer.
Compile a list of questions before doctors' appointments. Put each of your doctors' names on an envelope and store the envelopes in an easily accessible spot. When you think of a question you want to ask a specific doctor, write it down and place it in the appropriate envelope. The day before your next appointment, prepare a written list of questions. Be sure to prioritize your list so you ask the most important questions first.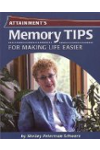 More About this Book
Memory Tips Making Life Easier
Written by memory and aging expert Shelley Peterman Schwarz, Memory Tips for Making Life Easier delivers just what its title promises. Written for health care professionals, family caregivers, and...
Continue Learning about Memory