There are several things you can do to remember your medical appointments:
Schedule annual appointments (physicals, eye exams, mammograms, etc.) around annual events such as birthdays or anniversaries to help you remember your appointment. Choose a time of year that is less busy for both you and your doctor.
Mark your calendar to schedule long-range appointments. If you are seeing a specialist and it takes weeks or months to schedule an appointment, enter the reminder information on your calendar two to three months before you need to see the doctor.
Have your doctor's receptionist write the date and time of your next appointment on a business or appointment card. If you must change the appointment, you'll have the phone number handy. This tip works well any place you make return or follow-up appointments.
Temporarily record an appointment on the palm of your hand. Don't have a business card or calendar with you to record the date? Write the date in the palm of your hand to remember until you get home and can write it on your calendar.
Ask your doctor's office to remind you of an appointment by sending you a reminder letter or calling you a day or two before your appointment. You could also ask for a reminder note to make a six-month dental checkup, an annual mammogram or a two-year colonoscopy.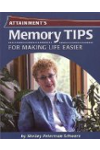 More About this Book
Memory Tips Making Life Easier
Written by memory and aging expert Shelley Peterman Schwarz, Memory Tips for Making Life Easier delivers just what its title promises. Written for health care professionals, family caregivers, and...
Continue Learning about Memory