Many libraries now give you a small, easy-to-lose receipt instead of stamping your book with the return date. To help you remember the return date, write it on the old return slip inside the book. If your book does not have one, write the date on a sticky note and place it inside the front cover. If your receipt gets lost, you'll know when to return the books. Missed a library due date? Some libraries don't fine seniors and some waive the overdue fines for all their patrons. Inquire.

Place library books by your door when due. If you're afraid you'll forget to return library books that are due, put them on the floor in front of the door. You won't leave home without seeing the books and remembering to take them. Use the same strategy to remember to take other items when you leave.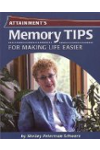 More About this Book
Memory Tips Making Life Easier
Written by memory and aging expert Shelley Peterman Schwarz, Memory Tips for Making Life Easier delivers just what its title promises. Written for health care professionals, family caregivers, and...
Continue Learning about Memory