Ask for videotaped instructions for special procedures to perform at home. If you have difficulty remembering how to do a special procedure or technique ordered by the doctor, ask the nursing staff if they will make a videotape to show you what needs to be done. They might also explain the reason for the procedures and possible complications. If a videotape is not feasible, you might create a photo book with simple explanations illustrated by pictures of equipment, procedures and so forth.

Take along plain self-adhesive labels when you go to the doctor's office. If your doctor prescribes medication, write down what the doctor tells you and stick it on the bottle when you get the prescription filled.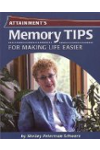 More About this Book
Memory Tips Making Life Easier
Written by memory and aging expert Shelley Peterman Schwarz, Memory Tips for Making Life Easier delivers just what its title promises. Written for health care professionals, family caregivers, and...
Remember what works for you when learning something challenging—a new task at your job, for example—and apply it here.
Simply listen. For some people, that's all it takes
Repetition. The first discussion you have with a physician is not likely to be your last. He expects to repeat information to you; you will also hear the information again from the staff, such as the PA. Redundancy is not a waste of time here—it reinforces your learning.
Bring someone with you. A friend or family member can help you remember and discuss what was said.
Take notes. If you are comfortable doing so, bring a pen and paper and write down key points during your visit.
Tape the discussion. You can play it back in the quiet of your home later, as well as share it with family members.
Continue Learning about Memory