Listening to your favorite music can stimulate your memory and help you relax. Listening to music associated with a particular era (e.g., Big Band) might stir up memories of times when you first heard the music. Buy your favorite music on tape or CD, or borrow music from the library.

Listen to books on tape. Keep your mind active by listening to books on tape in your car, while working around the house or when out for a walk. For people who have lost the ability to read, consult with your local librarian about the "Talking Book Program," funded by the state and federal government at no cost to the individual.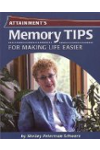 More About this Book
Memory Tips Making Life Easier
Written by memory and aging expert Shelley Peterman Schwarz, Memory Tips for Making Life Easier delivers just what its title promises. Written for health care professionals, family caregivers, and...
Continue Learning about Memory