Matching your memory strategies to your learning style will help you remember better. Do you learn better by seeing or hearing? If you don't know, try this little test. Have someone watch your eyes as they ask you familiar questions: "How much is 2 plus 2? Where do you live? What is your pet's (spouse's, child's) name?" Then have them ask you a question that requires some thinking: "Where did you go on your last vacation?" If you looked at the ceiling before you answered, you are a visual learner. If you looked to the side (toward your ears), you are an auditory learner. Using several senses at once, of course, will increase your ability to remember.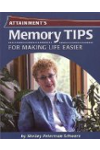 More About this Book
Memory Tips Making Life Easier
Written by memory and aging expert Shelley Peterman Schwarz, Memory Tips for Making Life Easier delivers just what its title promises. Written for health care professionals, family caregivers, and...
Continue Learning about Memory