There are several things you can do to improve your memory for important dates and deadlines. First, mark the date of birthdays and anniversaries on a calendar in red ink so it's easy to see. Write the person's telephone number next to the name so you don't forget anyone's special day.

Second, keep track of birthdays and other important dates in a pocket calendar. Begin each year with a new pocket calendar, the kind that has a square for each day, and write in upcoming events, celebrations and birthdays. Take the calendar with you to the card store and purchase cards for the entire year. Keep the calendar and cards in a folder or binder with 12 pockets, one for each month. At the beginning of the month, address the cards, marking the date to mail in the spot where the stamp goes. When the date arrives, apply a stamp over the date and mail.

Third, create a system to pay bills on time. When the mail comes, open all the bills at once and write the due dates on a big kitchen calendar. Every day, perhaps in the morning or after dinner when you have your coffee, check the calendar and send out any bill with a due date approaching. Once this becomes routine, you'll always be on top of your bills and need never pay another late fee.

Fourth, keep track of annual events with a perpetual calendar. Purchase a calendar with dates only (no year or days of the week) and keep track of birthdays and anniversaries without having to transfer them to a new calendar each year. As long as you remember to turn the page each day, this kind of calendar will make it easy to remember important dates year after year.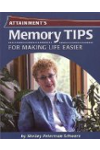 More About this Book
Memory Tips Making Life Easier
Written by memory and aging expert Shelley Peterman Schwarz, Memory Tips for Making Life Easier delivers just what its title promises. Written for health care professionals, family caregivers, and...
Continue Learning about Memory