Visualize what you want to remember, such as day of the week, where you will be, what you will be doing and who you will be with. Imagine yourself in that location, on that day, doing what you will be doing. When the time comes, you'll be more likely to remember. You can use this technique to remember appointments, names or when to take your medications.

Create a mental picture. If you suffer from intermittent memory lapses, like forgetting a name or particular word, tell yourself not to fret about it. Relax and create a mental picture of what you want to remember. If you are going to the grocery store to pick up five items (e.g., chicken, milk, bread, bananas and laundry detergent), think of a chicken washing clothes while eating a banana sandwich with milk. The crazier the mental picture, the better.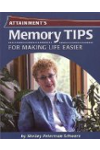 More About this Book
Memory Tips Making Life Easier
Written by memory and aging expert Shelley Peterman Schwarz, Memory Tips for Making Life Easier delivers just what its title promises. Written for health care professionals, family caregivers, and...
Continue Learning about Memory