Here are some tips to help you remember phone numbers:
Keep a list of frequently dialed numbers by the telephone. Type one list of phone numbers of people you call frequently and a second list of phone numbers of businesses, services and anyone you call long distance. Photocopy both lists, staple them back-to-back and slip them into a clear acetate sheet from an office supply store. For easy reference, keep a list at each phone in your home.
Saying numbers out loud may help you remember addresses and phone numbers and even improve your ability to add and subtract numbers in your checkbook. If adding and subtracting numbers is a big problem, consider using a money-management computer software program that does the math for you.
Create words to remember telephone numbers. Use the letters on the dial to create a word to help you remember. Commercial companies do this all the time (e.g., 1-800-verizon).
Look at the pattern you create when you dial. Does it remind you of an X? Or an H? Some people find it easier to remember a pattern than a number.
Remember a telephone number by creating a little melody that can be sung as you recite the number. Simultaneously using the left side of your brain (numbers) and the right side (melody) is a powerful memory aid.
Keep a calculator next to the phone to quickly "write down" the number. You can enter the number more quickly on a keypad than you can write it down.
Purchase a cell phone with features to help you remember. Some cell phones offer voice activated dialing. After you record the names and numbers of people you call regularly, simply push a button and speak the prerecorded name to dial the connection. Some cell phones allow you to record a short message or write a short note using the number and letter pad. Some have an alarm you can set. Shop for the cell phone with the features most helpful to you.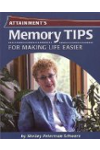 More About this Book
Memory Tips Making Life Easier
Written by memory and aging expert Shelley Peterman Schwarz, Memory Tips for Making Life Easier delivers just what its title promises. Written for health care professionals, family caregivers, and...
Continue Learning about Memory