Here are some tips to help you remember names:
Use repetition. Try to use a person's name two or three times during a conversation. It'll help you remember the name.
Spell names in your head. If you have difficulty remembering names, try spelling them in your head. Associating faces with the spelling of names activates multiple memory pathways in your brain.
Link names to a place or occupation. It's easier to remember something if you link it to something else. When you meet new people, associate their names with their occupations or the group in which you met them (e.g., Skier Bob). Picture them in that place with a nametag to identify them.
Create a mental picture of the person. To remember someone's name, picture the person, what they do, where they live or other things you can remember. This may bring to mind a letter of the alphabet, which you can build on by going through all the names you can think of that begin with that letter until the correct one comes to mind.
Use association or word pictures to remember names. Here are some examples to help you remember names by associating them with pictures: "Shave" for "Dave," "Cave-in" for "Kevin," "Cross" for "Chris." It may take practice before you can do this automatically.
Rhyme names. A tip for remembering names: Try to rhyme the person's name with a color, group or something else that associates the person with the name (e.g., Mr. Green Gene, Redheaded Deb, Bike Mike). Use a word or memory key that will remind you not only of the person but also of something about that person.
Review the names of attendees before meetings, events and reunions, especially if you haven't seen people recently. If possible, obtain a guest list prior to the event. If you have pictures to go along with the names, all the better.
Ask people to help you remember names. Some people find it easy to remember people's names. If you have difficulty, however, be honest and tell people when you meet them. Ask them to remind you of their name the next time you meet.
Use a sense of humor. If you regularly have memory lapses, make up a humorous response for common situations, such as "I'm having a senior moment" or "I didn't recognize you -- you changed your clothes." At your next office party or reunion, try wearing a button that says, "Nice to see you. I can't remember your name either." tips to remember names, how to remember names, techniques to remember names, memorizing names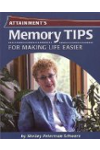 More About this Book
Memory Tips Making Life Easier
Written by memory and aging expert Shelley Peterman Schwarz, Memory Tips for Making Life Easier delivers just what its title promises. Written for health care professionals, family caregivers, and...
Spend five minutes a day assigning a picture to every name and create a visual. Follow Ron White's example: "Karen is carrot, and then when I meet Karen, I'm looking for the carrot on her face." Doing so will ensure you can always match a name to a face and avoid the embarrassment of forgetting!

In this video, Dr. Oz's welcomes the U.S. memory champion Joshua Foer who reveals a secret for remembering people's names.
Connect names with faces by creating mental images that trick your mind into remembering. For instance, remember Mr. Bender with the curly hair by imagining him bent over, with his curly hair facing you.
Continue Learning about Memory