Storytelling is certain to get your creative juices going and give you a great way to challenge your mind in a new and different way. Research has shown that staying intellectually engaged may lower our dementia risk, so go ahead and start telling your tale.
Try starting your story with one of the following lines, or beginning with one of your own:
"As she walked along the narrow path, Martha came upon…"
"Little did I suspect that…"
"The noises of the night rarely disturbed Roger's sleep, yet that night…"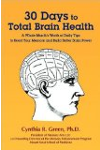 More About this Book
30 Days to Total Brain Health®
Get ready to make the move to better brain health! In this remarkably effective, scientifically-grounded plan, Dr. Cynthia Green, a clinical psychologist and one of the country's most notable experts...
Continue Learning about Memory