We lose lean muscle mass beginning around age 50. By age 80, we have lost 50 percent of our lean muscle mass. People who are sedentary lose 15 percent of their muscle mass each decade between ages 50 and 70, and 30 percent per decade after age 70.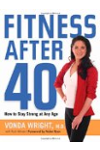 More About this Book
Fitness After 40: How to Stay Strong at Any Age
It's one of the undeniable facts of life. After we reach a certain age, our bodies change. No matter how fit we may have been at 20, we're very different people after 40. But growing older doesn't...
Continue Learning about Functions of Muscles