Our muscles often have multiple functions, such as the gluteus maximus, which extends and externally rotates the hip joint as well as guides the femoral head in the hip socket. That's a lot of jobs. So when the gluteus isn't working well, several motions are affected, which can then result in several possible injuries. You'll also notice that some muscles affect both the upper and lower leg bone movements, sometimes in opposite ways, as in the sartorius muscle, which externally rotates the thigh bone but internally rotates the tibia.

Many of these muscles overlap in function. For instance the tensor fascia lata (TFL), rectus femoris, and sartorius all flex the hip joint. And the gluteus maximus and part of the gluteus medius both externally rotate the thigh bone. To me, this is important because it shows the body has several redundant muscles for the same job. Therefore if one muscle begins to fail, another can seamlessly take up the load. This can't go on forever though, so problems arise when the backup muscle ends up doing too much of the work for too long (as in the case of the hamstrings overworking due to poor gluteal function). Muscle cars, muscle shirts, and muscle heads - they all connote the same image. Big, bad, strong, powerful. And for good reason: Muscle is what provides your body's power. It also gives you the ability to change your body in a couple of different ways. Of course, on the outside, a lean and toned look can imply a message of health and strength more so than a lumpy, fluffy, or fatty body. More importantly, we all need muscle for the metabolic machine that it is. Simply, muscle helps your body combat fat. Adding some lean muscle mass to your body will help your body burn more calories, especially compared to fat, which contributes to you storing more fat because it takes very little energy to maintain.
Your body burns 50 to 100 calories per pound of muscle every day, compared to less than one handful of calories per pound of fat. So the result is that you burn fat by adding muscle.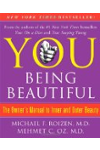 Continue Learning about Functions of Muscles