How do I know if a football helmet needs more air?
If the helmet is too loose on your head and there is room for twisting, you may need a smaller size or more air. Interlock your hands and press down on the top of the helmet. You should feel pressure on the crown of your head, not on the eyebrow portion of your face. If pressure is felt on the eyebrow, this means the helmet does not have enough air or may be the wrong size. If the faceplates are loose on the side of the helmet, you may need a thicker pad. Once you have the right size, you can inflate the pads. You want the helmet to be snug, but not uncomfortably tight. (This answer provided for NATA by the Saint Louis University Athletic Training Education Program.)
Continue Learning about Football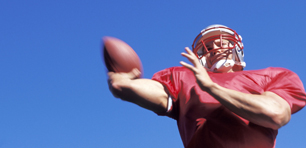 Football is a team sport that involves cardio, strength training, and muscular endurance. To prevent football injuries make sure you have the right gear to protect yourself from concussions, muscle sprains and broken bones.