Set up a drill where players must execute their backpedal and learn to break on the ball in a competitive environment. Two players are shoulder to shoulder and start backpedaling in the same direction at the same speed. After 10 yards or so, a coach will point right or left - both players will break in the direction the coach points. The player to the side of the break becomes the offense and the player away becomes the defense. The coach throws the ball trying to complete a pass to the directionally assigned offensive player and the defender competes to make a play on the ball.  An interception or a pass break up with the near side hand is what you are looking for and a sign that your defensive backs are competing for the ball a little better. Backpedaling is a crucial skill for any defensive back;  the technique should be fluid and effortless.

Continue Learning about Football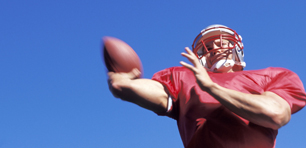 Football is a team sport that involves cardio, strength training, and muscular endurance. To prevent football injuries make sure you have the right gear to protect yourself from concussions, muscle sprains and broken bones.