I have my athletes use kettlebells more often than barbells for Olympic Lifts such as any clean variation or snatch. The centrifugal force generated during the basic kettlebell movement of the swing loads the "posterior chain" of the body quite well. The posterior chain (or backside of the body including the glutes/hips) often needs greater development in most athletes. The arcing motion during a swing loads the hips like no other exercise that I have experienced. Master the kettlebell swing and you can develop explosiveness through the hips and then work up to performing cleans and snatches with the kettlebell as well.
Absolutely. The power clean (barbell clean) is a good lift, but there are a multitude of exercises to train hip and leg explosion, core strength, and shoulder stability.  A.) Hip and leg power can be developed with the speed squat (try with some light dumbbells), the lunge jump (shoot for height and speed), and/or the tuck jump (jump high and then tuck); B.) for solid core strengthening perform the ball back extensions or the reverse hyperextensions; and C.) if you demand upper back and shoulder resiliency then perform the standing dumbbell diagonal lift.
Continue Learning about Football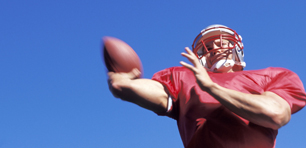 Football is a team sport that involves cardio, strength training, and muscular endurance. To prevent football injuries make sure you have the right gear to protect yourself from concussions, muscle sprains and broken bones.