Smelly feet can be inconvenient and embarrassing.
The smell is usually caused by bacteria that break down the outer layer of skin on the feet. This releases chemicals that create the bad smell.
Smelly feet often go along with excessive foot sweating. This condition is called "plantar hyperhidrosis". Sweat softens the skin and creates a moist, warm environment that the bacteria like.
If your daughter has excessive sweating, have her:
Wear leather shoes and absorbent cotton socks
Avoid closed shoes, especially those made of plastic or rubber that don't let feet "breathe"
Wear sandals in summer if possible
She can dust her feet with foot powder, but make sure the feet are dry first so the powder doesn't "cake". To minimize odor, she should continue to wash her feet and change her socks daily. After washing her feet, she must dry well between her toes. That's where the fungus lives that causes athlete's foot.
See your doctor if the odor continues or if you see scaling and redness. Your doctor can prescribe a topical antibiotic for odor-causing bacteria and a topical antifungal cream for athlete's foot.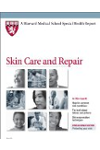 More About this Book
Harvard Medical School Skin Care and Repair
Where can you get authorotative advice on skin care? There's plenty of advice out there on TV, the internet and in the aisles of stores peddling skin care products. Despite the abundance of products...
Continue Learning about Foot Skin and Nail Care