If you wear two different-sized shoes due to an ankle foot orthotic (AFO) or leg brace, here are some suggestions for getting shoes that fit.
Ask your local shoe store if they sell split sizes. If not, ask if they can order them from a nonretail company like P.W. Miner.
Some retail stores have policies that allow you to purchase shoes in different sizes without the cost of two pairs. Companies that have "split-size" shoe policies include Nordstrom's department store (the original Mrs. Nordstrom had polio and needed split-size shoes) and Birkenstock. Of course, retailers may vary in their policies, but it pays to ask.
Try the National Odd Shoe Exchange, a nonprofit organization that deals in donated shoes.
Try Mix Match Shoes, a company that sells shoes one at a time.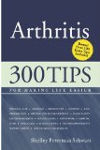 More About this Book
Arthritis
Arthritis: 300 Tips for Making Life Easier is a compendium of tips, techniques, and life-task shortcuts all learned from personal experience. Author Shelley Peterman Schwarz has lived with a chronic...
Continue Learning about Foot and Ankle Conditions