Purchase fresh pork no more than two to three days before you plan to cook it. Since pork contains much more unsaturated fat than beef, it turns rancid more quickly. Stored in its original store wrapper in the coldest part of the refrigerator, it will stay fresh for three days.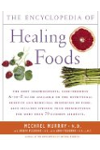 More About this Book
Encyclopedia of Healing Foods
From the bestselling authors of The Encyclopedia of Natural Medicine, the most comprehensive and practical guide available to the nutritional benefits and medicinal properties of virtually everything...
Continue Learning about Food Storage & Health