Here are some tips to help you be freezer savvy with frozen foods:
Buy frozen organic fruits and vegetables, especially when it comes to berries and other fruits that go bad quickly when you buy them fresh. You can use organic frozen berries in yogurts, on top of frozen desserts, or in a smoothie in lieu of ice. When buying frozen vegetables, you can defrost them in the refrigerator overnight and use them the next day. Or place them in the fridge in the morning, and they'll be ready to cook when you arrive home in the evening.
Order takeout or buy prepared food that can be tweaked at home in seconds for a blast of nutrition. Always have frozen veggies on hand to add to dishes. Spinach, broccoli, and soybeans can be added as a side dish or thrown into pasta sauces and on top of frozen pizzas. Add extra veggies to a dish of beef and broccoli from the Chinese restaurant (ever notice there's way more beef than broccoli in those containers?); correct the imbalance with your own assortment of veggies and extend the dish from serving four to eight servings.
Frozen wild fish is another example of better quality and freshness. Pull frozen fish from the freezer and place it in a bowl to defrost in the fridge. When you start to prepare dinner, mix thawed veggies with the fish, place them in a saucepan and pour vegetable broth (low-sodium please) and spices into the saucepan. Cover and boil or steam for five to seven minutes. Voila!
Store individually wrapped, single-serving portions of meat, poultry, and fish in the freezer.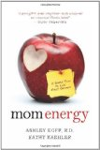 More About this Book
Mom Energy: A Simple Plan to Live Fully Charged
       From celebrated dietitian Ashley Koff and fitness trainer to the stars Kathy Kaehler comes Mom Energy, an exciting new way for moms to tap into their own natural and renewable sources of...
Continue Learning about Food Storage & Health