Summer squash is very fragile and should be handled with care, as even small punctures will lead to decay. It should be stored unwashed in a perforated plastic bag in the refrigerator crisper, where it will keep for about seven days. While summer squash can be frozen, this will make the flesh much softer. Blanch slices of summer squash for 2 minutes before freezing.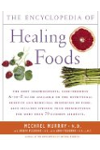 More About this Book
Encyclopedia of Healing Foods
From the bestselling authors of The Encyclopedia of Natural Medicine, the most comprehensive and practical guide available to the nutritional benefits and medicinal properties of virtually everything...
Continue Learning about Food Storage & Health