Honey is usually found pasteurized, although more health-conscious consumers might prefer the raw version as well. Pasteurized honey is generally translucent; honeys that are "creamy" are usually produced by mixing crystallized honey into the liquid honey mixture. Darker honey is usually of a stronger flavor. Flavors may also depend on the flower nectars from which the honey is produced, so it is fun to try honey made from various sources to experience the gustatory nuances in this delicious food.

A high sugar and acid content helps this liquid remain quite fresh for long periods of time. Honey does easily absorb moisture from air, and honey stored in an airtight container will keep practically indefinitely. Since cold promotes viscosity and changes honey's flavor and taste, it is best not to store honey in cold conditions.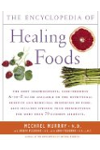 More About this Book
Encyclopedia of Healing Foods
From the bestselling authors of The Encyclopedia of Natural Medicine, the most comprehensive and practical guide available to the nutritional benefits and medicinal properties of virtually everything...
Continue Learning about Food Storage & Health