Brewer's yeast comes in a powdered form (the most potent form), in the form of flakes or buds (best for health shakes), and in the form of tablets (good if you don't enjoy the taste).

Check the label of the brand you are considering purchasing, as the nutrients in different brands vary considerably. Some brands contain not only excellent-quality protein but also good to high levels of the B vitamins (including folate, niacin, pantothenic acid, riboflavin, thiamin, and vitamins B6 and B12) plus minerals (including calcium, potassium, magnesium, copper, iron, zinc, manganese, selenium, and chromium).

Store brewer's yeast in an airtight opaque container in a cool, dark, and dry pantry, where it should keep for six to eight months; or in the refrigerator, where it will keep for at least three years.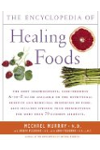 More About this Book
Encyclopedia of Healing Foods
From the bestselling authors of The Encyclopedia of Natural Medicine, the most comprehensive and practical guide available to the nutritional benefits and medicinal properties of virtually everything...
Continue Learning about Food Storage & Health