Fresh spinach should be stored loosely packed in a sealed plastic bag in the refrigerator crisper, where it will keep for about four days. Do not wash spinach before storing, as the moisture will cause it to spoil. Cooked spinach does not store too well, certainly no longer than one day in the refrigerator. Spinach can be frozen after being blanched for two minutes, although this will cause its texture to become very soft, so do not completely thaw it before cooking.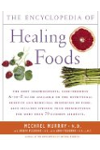 More About this Book
Encyclopedia of Healing Foods
From the bestselling authors of The Encyclopedia of Natural Medicine, the most comprehensive and practical guide available to the nutritional benefits and medicinal properties of virtually everything...
Continue Learning about Food Storage & Health