Fresh leaves can be stored in the refrigerator for 2-7 days. They can also be frozen. You can also leave them in a warm place to dry but this might cause some loss of flavor.
To store fresh mint leaves, carefully wrap them in a damp paper towel and place them in a loosely closed plastic bag. Store in the refrigerator, where they should stay fresh for several days. Just as with other herbs, when purchasing dried mint, try to select organically grown mints, since organically grown herbs are much less likely to have been irradiated. Dried mints should be kept in a tightly sealed glass container in a cool, dark, dry place, where they will remain fresh for about nine to twelve months.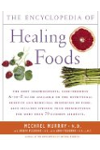 More About this Book
Encyclopedia of Healing Foods
From the bestselling authors of The Encyclopedia of Natural Medicine, the most comprehensive and practical guide available to the nutritional benefits and medicinal properties of virtually everything...
Continue Learning about Food Storage & Health