Although some milk in Europe and now in the U.S. is sold at room temperature in sealed containers, most milk sold in supermarkets should be refrigerated since higher temperatures can cause it to turn sour rather quickly. Some of the newer room-temperature containers may stay at room temperature only until they are opened. After this point, they need to be refrigerated as well. When storing your milk, always seal or close the milk container to prevent it from absorbing the aromas of other foods in the refrigerator. If possible, keep milk away from the refrigerator door, since storing it there exposes it to the warmer room temperature each time the refrigerator is opened and closed.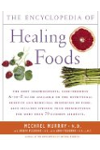 More About this Book
Encyclopedia of Healing Foods
From the bestselling authors of The Encyclopedia of Natural Medicine, the most comprehensive and practical guide available to the nutritional benefits and medicinal properties of virtually everything...
Continue Learning about Food Storage & Health