Canned hams that require refrigeration, even before opening, generally have a better flavor and texture than those that can be stored at room temperature until opened. This is because the very high heat required to process shelf-stable meat negatively affects the product's flavor, aroma, texture, and nutritional value. Also, be aware that higher-quality meat is typically reserved for the more expensive products.

Canned and dry-cured hams will keep for up to six months if stored in the refrigerator unopened. Once opened, wrap leftovers tightly and use within one week or freeze for up to one month.

Vacuum-packed, brine-cured hams should be stored in the refrigerator, where they will keep for about one week, or they can be frozen for up to three months. Once opened, wrap leftovers tightly in their original wrapping or aluminum foil and use within one week.

Some country-style hams can be stored in a cool place for one to two months; check the label for storage length and instructions. Also, keep in mind that longer storage equals more evaporation, which will shrink and toughen country ham. Once cut, country ham must be refrigerated and should be used within four to five days, or leftovers can be frozen for up to one month.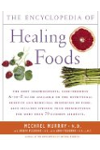 More About this Book
Encyclopedia of Healing Foods
From the bestselling authors of The Encyclopedia of Natural Medicine, the most comprehensive and practical guide available to the nutritional benefits and medicinal properties of virtually everything...
Continue Learning about Food Storage & Health