Eggs should be stored in the original carton in the refrigerator. Whole raw eggs will keep in the refrigerator for 3-5 weeks.

You can store raw egg whites or yolks in a sealed container in the refrigerator for 2-4 days. Freezing raw egg yolks is not recommended however frozen raw egg whites can be stored for up to 12 months.

Hard-cooked eggs can be stored for 1 week in the refrigerator.

Use a refrigerator thermometer to make sure your refrigerator is keeping things cool. It should be set at 40°F or below.

Although in certain cooler climates and cultures eggs are not refrigerated, they are best stored in the refrigerator, where they may remain for up to one month. Eggs that have higher omega-3 fatty acid content are best eaten as fresh as possible to keep these oils fresh. Since the eggshell is somewhat porous, it helps to keep the eggs in their cartons so as to reduce their absorption of odors and compounds from other foods in the refrigerator. Eggs are best stored point down so as to keep the most beneficial placement of the air chamber and yolk. Try not to store eggs in the door, as variations in temperature caused by the opening and closing of the door can contribute to spoilage.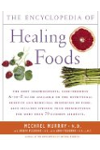 More About this Book
Encyclopedia of Healing Foods
From the bestselling authors of The Encyclopedia of Natural Medicine, the most comprehensive and practical guide available to the nutritional benefits and medicinal properties of virtually everything...
Continue Learning about Food Storage & Health