Unopened vacuum-packed bacon should be marked with a sell-by date. If unopened, it will keep for one week past this date, and it can be frozen before this date, keeping for three months. Once opened, if tightly wrapped, it should keep about one week. Slab bacon, if tightly wrapped and refrigerated, will keep for several weeks. Canadian bacon will keep up to one week if in large pieces and three to four days if sliced.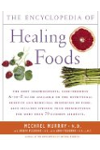 More About this Book
Encyclopedia of Healing Foods
From the bestselling authors of The Encyclopedia of Natural Medicine, the most comprehensive and practical guide available to the nutritional benefits and medicinal properties of virtually everything...
Continue Learning about Food Storage & Health