Store apples in a cool zone away from strong-smelling foods, so they won't absorb odors. If the refrigerator is jammed, you can also store apples in a cool, dark place.
In the Northern Hemisphere, apple season begins at the end of summer and runs until early winter. Apples that you see available at other times of the year have been in cold storage or imported from different parts of the world. Whenever possible, it is strongly encouraged to buy organic fruit. To ensure that the fruit is organic, the fruit will contain a federal certified organic foods label. Nonorganic apples are sprayed with many dangerous chemicals, one of them being alar. Furthermore, non-organic apples are often waxed to prolong their freshness. Hence, do not be confused and try to determine if the apple is organic by the waxiness because even organic apples will appear waxy due to their natural coating.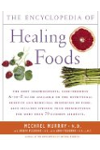 More About this Book
Encyclopedia of Healing Foods
From the bestselling authors of The Encyclopedia of Natural Medicine, the most comprehensive and practical guide available to the nutritional benefits and medicinal properties of virtually everything...
Continue Learning about Food Storage & Health