Store cucumbers in the refrigerator, where they will keep for several days. If you do not use an entire cucumber during one meal, wrap the remainder tightly in plastic or place it in a sealed container to retain its freshness, but even then it should be used within one to two days. Cucumbers should not be left out at room temperaturefor too long, as this will cause them to wilt and become limp.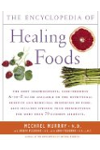 More About this Book
Encyclopedia of Healing Foods
From the bestselling authors of The Encyclopedia of Natural Medicine, the most comprehensive and practical guide available to the nutritional benefits and medicinal properties of virtually everything...
Cucumbers should be stored in the refrigerator crisper drawer. If cucumbers are uncut and waxed they will last in the refrigerator for about one week. Unwanted waxed cucumbers should be checked often for signs of decay. Cut up cucumbers should be tightly wrapped in plastic wrap and used within a day or two of purchase.
Continue Learning about Food Storage & Health