Store both whole and ground cloves in a tightly sealed glass container in a cool, dark, dry place. Ground cloves may keep for up to three months, while whole cloves may stay fresh for about a year. In addition to judging by your nose, if you are uncertain about the freshness of stored cloves, before using place them in a cup of water. Those of good quality will float vertically, while those that are stale will either sink or float horizontally.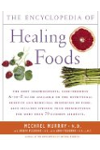 More About this Book
Encyclopedia of Healing Foods
From the bestselling authors of The Encyclopedia of Natural Medicine, the most comprehensive and practical guide available to the nutritional benefits and medicinal properties of virtually everything...
Continue Learning about Food Storage & Health