Cauliflower should be stored in the vegetable drawer of the refrigerator. You can keep it wrapped in a plastic bag till using. Cauliflower will stay fresh for about five days, when it starts to feel rubbery rather than firm, you know it is no longer fresh. If you only use half of a large cauliflower, wash the rest and keep it in a plastic bag till ready to use.
Cauliflower is best stored with the stem side down in a perforated paper or plastic bag in the refrigerator to prevent moisture from developing in the floret clusters. It will generally keep for about a week if stored in this manner. When purchasing cauliflower as precut florets, keep in mind that you must consume them within one to two days, as they lose their freshness quickly. Cooked cauliflower also spoils quickly, so consume cooked cauliflower within one to two days of storing it in the refrigerator.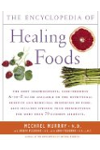 More About this Book
Encyclopedia of Healing Foods
From the bestselling authors of The Encyclopedia of Natural Medicine, the most comprehensive and practical guide available to the nutritional benefits and medicinal properties of virtually everything...
Continue Learning about Food Storage & Health