Since carrots are efficient at maintaining their water content, they will keep longer than many other vegetables. To maximize storage time, store them in the coolest part of the refrigerator in a perforated plastic bag or wrapped in a paper towel. This will reduce the amount of condensation that is able to form. Stored this way, carrots will stay fresh for up to two weeks. If carrots are purchased with attached green tops, the tops should be cut off before storing in the refrigerator, as if they remain attached they will pull moisture from the roots and cause the carrots to wilt prematurely. The carrot tops will need to be used right away, as they are quite fragile and wilt quickly. Carrots should be stored away from apples, pears, potatoes, and other fruits and vegetables that produce ethylene gas, since this gas will cause them to become bitter.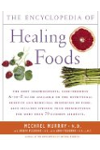 More About this Book
Encyclopedia of Healing Foods
From the bestselling authors of The Encyclopedia of Natural Medicine, the most comprehensive and practical guide available to the nutritional benefits and medicinal properties of virtually everything...
Carrots should be stored in the refrigerator vegetable drawer or in a cool dark place. Carrots are crispy root vegetables and if they are not kept cold they will get soft and limp. Carrot tops can be left on or cut off before storage. It is best to place them in a plastic bag.
Continue Learning about Food Storage & Health