Arugula should be kept cool and moist and used within one to two days of purchase. It keeps best if the roots are first wrapped in damp paper towels, then the whole bunch is placed in a plastic bag. Alternately, arugula, with its roots attached, can be placed upright in a glass of water (as one would do with a bunch of flowers),covered with a plastic bag, and refrigerated. If the roots have been removed, the best way to maintain arugula's crispness is to rinse the leaves, spin them dry in a salad spinner, then either wipe dry the outer bowl of the salad spinner, replace the inner bowl containing the arugula, and store in the refrigerator; or rinse the leaves, layer them in the leaves in clean paper towels, place them in a plastic bag, and refrigerate in the crisper drawer until serving time-optimally, later the same day.

Store arugula and other greens away from apples, bananas, and pears since, as they ripen, these fruits give off ethylene gas, which will cause the leaves to develop brown spots, an indication of decay.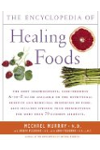 More About this Book
Encyclopedia of Healing Foods
From the bestselling authors of The Encyclopedia of Natural Medicine, the most comprehensive and practical guide available to the nutritional benefits and medicinal properties of virtually everything...
Continue Learning about Food Storage & Health