Once cooked, soybeans can be stored in the refrigerator for up to three days if placed in an airtight container. Fresh soybeans (edamame) should be deep green in color with firm, unbruised pods. Edamame are now found in many markets, as well as in natural food stores and Asian markets. They may be in the frozen food section, although some stores offer precooked edamame in their refrigerated display cases too. Many sushi restaurants serve boiled edamame with salt. Fresh edamame has a two-day refrigerator life, while frozen edamame will keep for four to five months.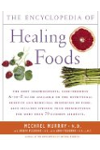 More About this Book
Encyclopedia of Healing Foods
From the bestselling authors of The Encyclopedia of Natural Medicine, the most comprehensive and practical guide available to the nutritional benefits and medicinal properties of virtually everything...
Continue Learning about Food Storage & Health