Store raspberries in the refrigerator. The best storage to prevent crushing and spoilage is to remove them from the original container and store them in a single layer in a shallow glass dish, covered with a damp paper towel. They will keep for one to two days. Raspberries freeze well. After washing the berries using a low-pressure sink spray, pat them dry with a paper towel. Spread them on a pan in a single layer and freeze until firm. Then transfer them to a freezer bag or airtight container. They will keep for nine months to one year. Adding a touch of lemon juice to the berries will help maintain their color while frozen. Raspberry purée can also be frozen.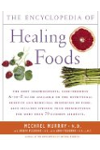 More About this Book
Encyclopedia of Healing Foods
From the bestselling authors of The Encyclopedia of Natural Medicine, the most comprehensive and practical guide available to the nutritional benefits and medicinal properties of virtually everything...
Continue Learning about Food Storage & Health