A ripe pineapple has a fruity, fragrant aroma, is more yellow than green in color, and is heavy for its size. Avoid selecting pineapple with decayed or moldy spots, especially at the bottom stem scar. Pineapple can be left at room temperature for one or two days before serving. While this will not make the fruit any sweeter, it will help it to become softer and juicier. Yet, as pineapple is very perishable, you should still watch it closely during this period to ensure that it does not spoil. After two days, if you are still not ready to consume it, you should wrap it in a perforated plastic bag and store it in the refrigerator, where it will keep for a maximum of three to five days.

Pineapple that has been cut up should be stored in an airtight container in the refrigerator, where it will keep for up to one week. It will stay fresher and retain more taste and juiciness if you also place some liquid, preferably some juice from the pineapple, in the container. Although pineapple can be frozen, this process greatly affects its flavor.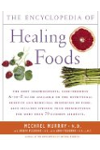 More About this Book
Encyclopedia of Healing Foods
From the bestselling authors of The Encyclopedia of Natural Medicine, the most comprehensive and practical guide available to the nutritional benefits and medicinal properties of virtually everything...
Continue Learning about Food Storage & Health