Though available year-round, pecans' peak season is the autumn. Due to their high oil content, pecans should preferably be purchased in their shells - although they are also available shelled in vacuum-packed jars, sealed plastic bags, or cans. If choosing shelled pecans, check the sell by date on the package as, once shelled, pecans turn rancid quickly.

Shelled nutmeats should appear plump and be of similar size and color. Avoid any that are limp, rubbery, dark, or shriveled. Also, discard any with a bitter or off taste -- a sign that their oil has turned rancid. In addition to their susceptibility to rancidity, shelled pecans will absorb odors, so they should be stored in an airtight container in the refrigerator, where they will keep for up to nine months, or in a moisture proof Ziploc bag in the freezer, where they will keep for up to two years.

Pecans will mold if not thoroughly dry before storing, even in the freezer, so it's a good idea to place them on a cookie sheet and bake at 175 degree Fahrenheit for 15 minutes. Then, allow them to cool completely to ensure dryness before storing. When purchasing unshelled pecans, look for clean shells free of stains, splits, cracks, or holes. The best-tasting are heavy for their size and don't rattle when shaken a sign that the nutmeat is old and dried out. Discard any with a musty scent, as moldy nuts are unsafe to eat. Unshelled pecans may be stored in an airtight container in a cool, dry place, where they will keep at room temperature for three to six months. An airtight container will prevent rancidity, and also prevent pecans from absorbing odors and flavors from other foods.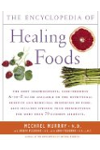 More About this Book
Encyclopedia of Healing Foods
From the bestselling authors of The Encyclopedia of Natural Medicine, the most comprehensive and practical guide available to the nutritional benefits and medicinal properties of virtually everything...
Continue Learning about Food Storage & Health