Picking from green or black, canned or bottled olives really depends on your taste preference as well as what is available in your area. Many prepared olives are also spiced in different ways, many of which reflect the culinary and herbal presence of the geographic area from which they come. Bottled olives, left unopened, can last for two years. Once opened, it is best to leave them in a nonmetal container in the refrigerator, where they will last for several weeks.

Oils generally have a tendency to take in any chemicals in their surroundings. As a result, we highly recommend you purchase only organic olive oil. Olive oil is also identified by its grade. And, in general, better grades do equate with fresher, tastier oil that confers greater health benefits than the lesser grades. The best grade is "extra-virgin," which refers to the initial unrefined oil garnered from the first crushing of the olive. "Virgin oil" is a name that indicates that first-pressed oil, and "pure olive oil" is virtually any oil that can be pressed out of the olive, regardless of the number of pressings. Extra-virgin oil is richer in taste and has up to four times the level of free oleic acids as the other grades. "Cold-pressed" denotes that the crushing of the olive was conducted without any heat. Although this process of eliciting the oil is more difficult, the quality of the oil is even higher, for heat can promote the oil's going rancid. In short, the best-quality oil to look for is organic, cold-pressed, extra-virgin olive oil.

A healthy oil, olive oil is also somewhat subject to going rancid from heat, air, and light. As a result, it is best to choose oil that is sealed in small, dark glass bottles. Unless you will be using a large quantity of oil all at once, it's best to buy it in small bottles, which will ensure that your oil is not excessively exposed to air. Glass containers are best, for metal and plastic containers can leach their own compounds into the oil. Finally, keep oil away from the stove or other heat sources. The best place in which to store it is a cool, dark, dry cabinet.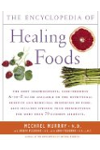 More About this Book
Encyclopedia of Healing Foods
From the bestselling authors of The Encyclopedia of Natural Medicine, the most comprehensive and practical guide available to the nutritional benefits and medicinal properties of virtually everything...
Continue Learning about Food Storage & Health