To achieve optimal nutritional health and as a functional food to protect the body against disease, nuts are one of the top 10 important foods to add to your diet.
Although nuts are high in fat, it is mostly unsaturated which is liquid in the blood. Fats from nuts lower inflammation, lubricate the joints, and stimulate the movement of toxins from the body.
Studies on almonds and walnuts show that both have a beneficial effect on blood cholesterol levels.
The protein in nuts is high in arginine, a precursor to nitric oxide, which is needed to help keep blood vessels relaxed and open, and to help prevent clotting, which also may improve blood pressure.
Walnuts in particular are high in alpha-linoleic acid, an essential (n-3 or omega) fatty acid that is protective to the heart and circulation. This fat has been shown to reduce the risk of heart disease and fatal arrhythmias in various studies. These omega fats may also help in depression.
Nuts are also good sources of dietary fiber, magnesium, copper, folic acid, vegetable protein, potassium, and vitamin E, all of which have been shown to be important for heart health.
In addition to the cardiac benefits of consuming nuts, the risks of having a stroke, developing type 2 diabetes, dementia, advanced macular degeneration and of gallstones have all been found to be lowered by eating nuts.
Research suggests that daily nut eaters gain an extra five to six years of life free of coronary disease and that regular nut eating could increase longevity by about 2 years.
Some current evidence suggests a moderate intake of nuts does not seem to cause weight gain. For example, in the nurses' study the frequent nut consumers were actually a little thinner on average than those who almost never consumed nuts, and daily supplements of almonds or peanuts for six months resulted in little or no increase in body weight.
Studies suggest that 30 to 60 grams (1-2 oz.) of nuts should be consumed daily to gain the maximum benefits seen. That is about 180-360 calories. An ounce each day is a good goal. Raw or lightly roasted is best. A quarter ounce (~50 calories) equals one of the following: 6 almonds, 4 walnut or pecan halves, 10 peanuts, or 1 T pumpkin seeds or sunflower seeds, 5 cashews, 5 hazelnuts, 4 filberts, or 3 macadamia nuts.
Some people may be allergic to nuts, most commonly peanuts. If nut allergies are suspected, avoid the suspicious food and have an allergy test to confirm. http://netnutritionist.com/food_of_the_month_1.htm
In general, nuts and seeds, due to their high oil content, are best purchased and stored in their shells. The shell is a natural protector against free-radical damage caused by light and air. Make sure the shells are free of splits, cracks, stains, holes, or other surface imperfections. Do not eat or use moldy nuts or seeds, and also avoid limp, rubbery, dark, or shriveled nutmeats.

Store nuts and seeds with shells in a cool, dark, dry environment for up to two to three months. If you must buy shelled nuts or seeds, store them in airtight containers in the refrigerator or freezer. Crushed nuts, slivered nuts, and nut pieces that you may find for sale are most often rancid. Prepare your own from whole nuts if a recipe calls for these.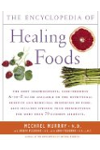 More About this Book
Encyclopedia of Healing Foods
From the bestselling authors of The Encyclopedia of Natural Medicine, the most comprehensive and practical guide available to the nutritional benefits and medicinal properties of virtually everything...
Continue Learning about Food Storage & Health