Dried garbanzo beans are found in both bulk bins and packages. For maximum freshness, it is always important to ensure there is no moisture in the beans you are purchasing, and that for bulk items, the bins from which you obtain your beans are covered. Your grocer should have a high volume and quick turnover. Store garbanzos in an airtight container and keep them in a dry, cool place, where they will last for up to one year. If you buy garbanzo beans at different times, keep them separate, for beans of various ages will require different cooking times. Also, check for insect damage and that the beans are whole and not cracked. If purchasing canned beans, look for those that do not contain extra salt or additives. For garbanzo bean flour, the best recommendation is to buy flour made from milled cooked beans. Milled raw beans tend to create foods that are difficult to digest and produce excess flatulence.

Once cooked, garbanzo beans can be stored in the refrigerator for up to three days if placed in an airtight container.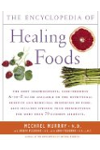 More About this Book
Encyclopedia of Healing Foods
From the bestselling authors of The Encyclopedia of Natural Medicine, the most comprehensive and practical guide available to the nutritional benefits and medicinal properties of virtually everything...
Continue Learning about Food Storage & Health