Wheat berries should be stored in an airtight container in a cool, dry, and dark place, where they will keep for up to one month. The optimal way to store other whole-wheat products, such as flour, couscous, cracked wheat, bulgur, bran, and germ, is in airtight containers in the refrigerator, as the cool temperature will help prevent them from becoming rancid, increasing storage time to three months. Wheat products can also be stored in the freezer for up to six months.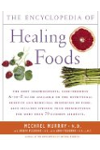 More About this Book
Encyclopedia of Healing Foods
From the bestselling authors of The Encyclopedia of Natural Medicine, the most comprehensive and practical guide available to the nutritional benefits and medicinal properties of virtually everything...
Continue Learning about Food Storage & Health