Oysters are highly perishable and highly susceptible to bacterial contamination once they die or if they get too warm, so they must be kept alive until ready to be cooked and eaten. Live oysters should be refrigerated. Handle them carefully and avoid dropping them. If an oyster's shell is chipped, the ensuing loss of liquor will dramatically reduce its shelf life. To properly store in the refrigerator, place the larger shells down on a platter or cookie sheet and cover with a damp cloth or paper towel. They should keep for up to three days. Do not put live oysters in an airtight container or submerge them in fresh water; either will kill them. Check daily for any open shells and give them the "tap test." If they don't close, it is a sign the oyster has died. Remove and dispose of these oysters promptly, so they do not contaminate the rest. Live oysters can also be frozen in the shell and kept up for to three months. To do so, place the live oysters in moisture vapor -- resistant bags, press out the excess air, and freeze.

Fresh shucked oysters should be submerged in their own clear liquor, should be plump, uniform in size, and pale creamy white in color, and should smell like clean salt water, with no ammonia or "fishy" scent. Shucked oysters should be refrigerated in an airtight container covered in their own liquor. If additional liquor is needed to cover them fully, make some by dissolving 1/2 teaspoon salt in 1-cup water.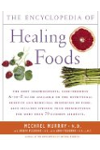 More About this Book
Encyclopedia of Healing Foods
From the bestselling authors of The Encyclopedia of Natural Medicine, the most comprehensive and practical guide available to the nutritional benefits and medicinal properties of virtually everything...
Continue Learning about Food Storage & Health