Cooked lobster should be refrigerated and consumed within two days. Cooked lobster can be easily frozen, too. To freeze cooked lobster, prepare brine made of 1 tablespoon of salt to 1-cup of water. Remove the meat from the shell and place it in a container or sealable bag with brine to cover and freeze. Frozen lobster should be eaten within one month.

When purchased in the grocery store, frozen lobster tails packed in special vacuum packs can have an extended shelf life of 24 months. Vacuum packs are also available in different meat combinations: whole pieces, chopped, and salad meat; tails; and claws.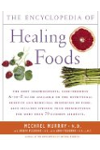 More About this Book
Encyclopedia of Healing Foods
From the bestselling authors of The Encyclopedia of Natural Medicine, the most comprehensive and practical guide available to the nutritional benefits and medicinal properties of virtually everything...
Continue Learning about Food Storage & Health