When you get home, rinse and rewrap the fish, then place it on paper towels in a clean plastic bag or tightly closed container and set it in the coldest part of your refrigerator. Even better, place the rewrapped fish in a pan of ice and set this on the bottom shelf (the coldest one) in the refrigerator. If keeping the fish until the next day, check once or twice to see that the ice is not melted and replenish if needed. Kept in this fashion, fresh fish can be stored for one to two days. Once cooked, fish should be eaten in one to two days.

If you cannot eat fresh fish within a couple of days, it is best to freeze it. Once frozen and thawed, fish should not be refrozen. Cut the fish, if necessary, into pieces no larger than two pounds. Rinse, pat dry, and wrap tightly in heavy-duty freezer paper or plastic wrap. Wrap again in foil, label with the date, and freeze. If the fish is already frozen and not thawed, just store in its original wrapping. Stored in the coldest part of the freezer, fish will keep for up to six months.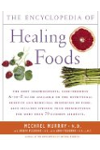 More About this Book
Encyclopedia of Healing Foods
From the bestselling authors of The Encyclopedia of Natural Medicine, the most comprehensive and practical guide available to the nutritional benefits and medicinal properties of virtually everything...
Continue Learning about Food Storage & Health