For the longest shelf life, place soft and semisoft varieties, such as Deglet Noor, in an airtight plastic bag or container to protect them from the odors of other foods, which they will quickly absorb. Store soft and semisoft varieties in the refrigerator, where they will keep for up to eight months. Stored in the same manner at room temperature, they will remain fresh for one month or more. Dried dates, which are pasteurized to inhibit mold growth, can be kept in the refrigerator for up to one year or in the freezer for up to five years.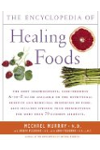 More About this Book
Encyclopedia of Healing Foods
From the bestselling authors of The Encyclopedia of Natural Medicine, the most comprehensive and practical guide available to the nutritional benefits and medicinal properties of virtually everything...
Continue Learning about Food Storage & Health